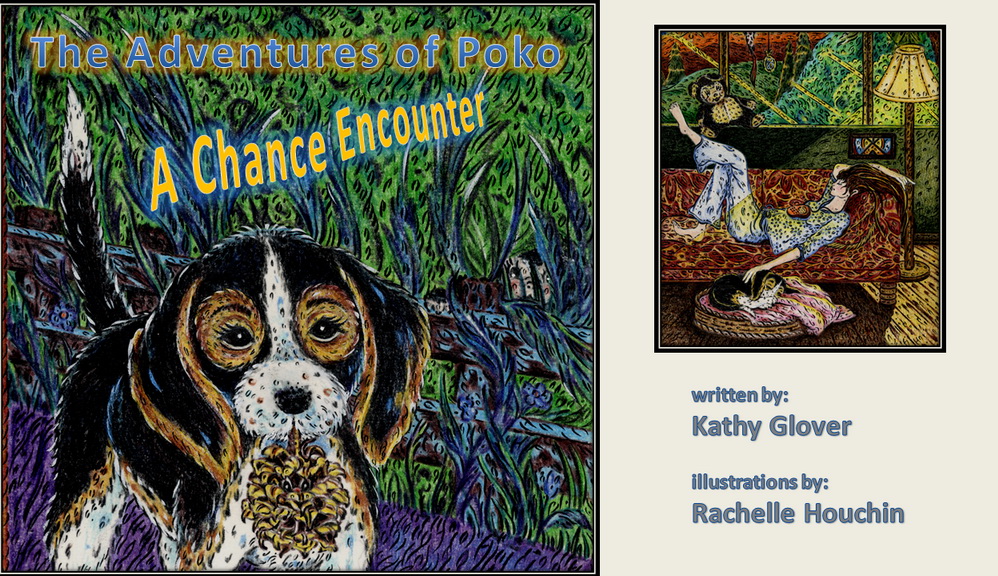 Beautiful illustrations and an engaging story will carry you away on this uplifting adventure. Readers of all ages will delight in the detail of the art and the loving message of the story. A curious beagle encounters an unlikely adventure while out on a evening walk with her family. Follow Poko as she is guided by her beautiful spirit on an adventure of friendship, courage and compassion.
Kathy Glover was born and raised in a small Indiana town.  She has 3 children and 4 grandchildren who live in Colorado where Kathy lived with her family for many years.  A career with the YMCA took her to California and it was during that time she discovered Baja, where she maintains a home on the Pacific side of the peninsula. Kathy has 20 years of experience developing and interfacing programs for youth and adults in YMCAs around the country. A passion for stories that engage children of all ages in real conversation, and wonder about life's incredible forms and facets, led Kathy to create the character of Poko. Kathy has co-authored two books for the YMCA of the USA on subjects of leadership in camping and programming for middle school students after school.  Retired from the Y, she is currently polishing the two additional stories in the Adventures of Poko series, painting in the studio at the house by the sea, puttering in the flower gardens, and cherishing family and friends.
Rachelle Houchin  resides with her artist husband Larry, in their remote Indiana lake cottage.  She spends countless hours in her studio overlooking the lake, meticulously working on the intricately detailed watercolor and ink masterworks that are her trademark.  Serenity apparent, her works, whether real or surreal, float across the page displaying the philosophy of positivity that guides her life.
A native of artist community Ojai California, outside of Los Angeles, Rachelle because interested in drawing at an early age. She studied at the Los Angeles Art Institute and the Los Angeles Art Center, but has since developed an entirely original style.
Rachelle works first with pencil, very lightly and precisely on the pristine white rag paper.  She then lays in opaque watercolors in discriminating hues.  The works are beautiful in this stage and many artists would consider them completed, but Rachelle works the paintings with a fine nib and lays intricate black ink lines, bringing the composition to life.  Although she spends hours, days, and even weeks on a single composition, she has no desire to compromise her work and search for a faster technique.  "This is just me," she explains.  "The quantity (of work) isn't as important as the quality."
EXHIBITIONS, AWARDS AND COLLECTIONS
Indianapolis Zoo, Rotunda at White River Gardens, one person show, Jan – May 2006.
The Lafontaine Arts Council, Indiana, regional art show, Best of Show, August, 2001.
Hoosier Salon Annual Exhibition, Indiana State Museum.  Accepted by jury each year, 1995 – 2000.
Ford Meter Box Calendar Competition, winner – 1985 and each year 1997 – 2000.
Art Indiana Magazine Card Series Sixteen, merit winner.
Honeywell Center Nine County Art Show, – Best of Show 1998, exhibitor 1999 & 2000.
Ventura County Museum of History and Art, works featured in 1995 & 1996.
Ojai Art Center, Ojai, California – one person show, June 1994
Ojai's Art in the Park, Best of Show, 1994. Ojai Valley Inn and Country Club, two one person shows. Manchester College, N. Manchester, Indiana – faculty and staff exhibitions.